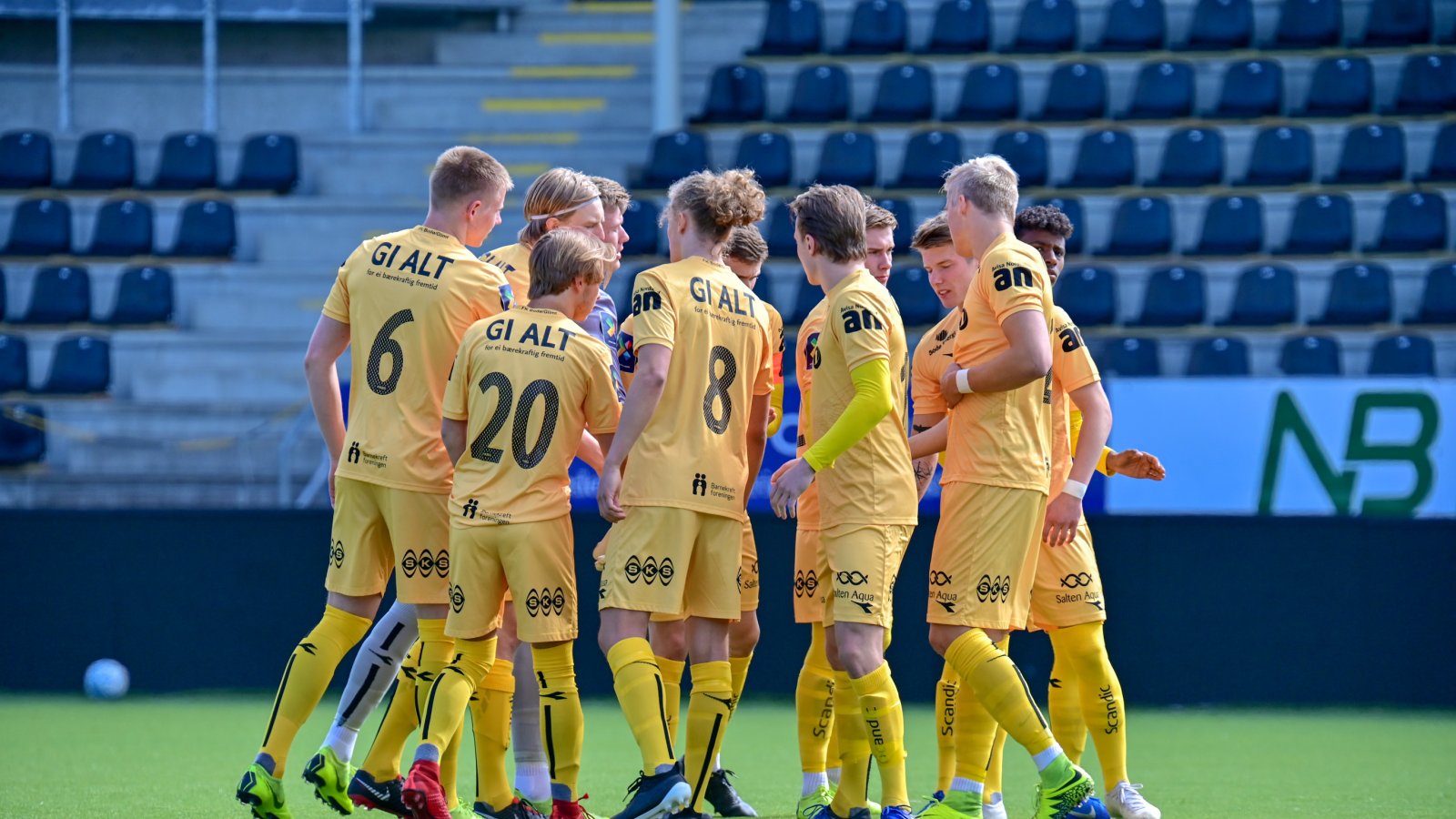 Akademileder Gregg Broughton blogger om 2020-sesongen. Akademiet
Dear all, I write this as my signing off for my time in Bodø/Glimt, and to share some of my experiences from the last 4 years that mean that I leave Bodø/Glimt ready to take my next step as a head coach.
Firstly, like every good story you have to go back to the start. 30/10/2016 was the day I officially signed, the day that relegation for Bodø/Glimt was pretty much made true, a 2-0 lost at Aspmyra against Viking made the job near impossible. But I remember walking out to the stadium and feeling a huge feeling of tradition, of pride in their club from the fans, and the huge colour of yellow from the fans was an amazing. My parents were with me and as we walked back to the hotel, you could tell the sense of belonging they felt with the team. It was also the first time I saw the Northern Lights that night, and I'm afraid they were more spectacular than the game!
Over the years there have been a lot of standout moments both on and off the pitch that will forever be in my memory, both good and bad. Watching Håkon Evjen play in his first game for the G19s and thinking "wow" in February 2017. The game vs Levanger in 2017 where there a bomb threat meaning the stadium had to be evacuated, the first game of the season in 2018, back in the Eliteserien and massive snowfall meant that a tractor came to the rescue. The G19 quarter final in 2018 vs LSK where we were 2-0 ahead, but LSK equalised in the 94th minute from a header from their GK with the last kick of the game, where we eventually lost on penalties. Playing our first game in 3rd Division, losing 6-0, but going on to finish 3 points off 3rd with a lot of 2002s making their debuts in 3rd Division. Players like Isak Amundsen, Elias Hoff Melkersen, Runar Huage, Ask Tjærandsen Skau, Adan Hussein and Marcus Andersen making the step to the A lag and establishing themselves there. Seeing Andreas van de Spa, William Mikalsen, Casper Øyvann, Bror Grøtterud, Nicklas Antonsen going outside of Glimt and playing at a good level and making a career out of themselves. And finally of course, the title win, and the celebrations that followed. The pride that was on show that day made it so so special. Never did I think I would see Milan struggle to beat a team from Norway in their own back yard. But this Glimt team is special, so to quote Martin Tyler: "I swear you will never see anything like this ever again. So watch it. Drink it in"
One thing has always been consistent in this club, is the togetherness and the general interest in everyone that is shared from fans, players and staff alike. People have come and gone, and likewise the club has grown, but here is a genuine closeness between people, between departments and between each other that I know is not the case in every club. I've had coffee with all of the A Lag staff at differing points, I've been the club's first ever Hygiene Officer for the first Europa League game (still not sure how that happened!) meaning I worked a lot with the administration, I've been first team GK coach when Jonas has been away but the overriding feeling has always been the same: people here are genuine Glimt people, from former players to coaches to the veterens, to TK, everyone has a valued place in this club.
So as I take my next step there will be many things I take with me to try and integrate in Stjørdals/Blink in a new environment. The development culture of the club is something I want to integrate and grow with them. Blink have a great potential: they have a stadium now worthy of OBOSLigaen, a stabile squad with many local players, and a veterans and support group that identify with what they see and do so much to support the club. They are a mini family, and I need to be accepted first, but take them on a journey together and help them reach new heights that people don't yet think can be achieved. I thank the Berg family and the veterens for showing how a strong identity and strong values can have such an important role to play in a club.
The value of a tight playing group, and a group that is hungry to learn and wants to improve. I know I am getting that, but I need to take care of that responsibility, and work hard to make sure I do everything in my power to help them achieve what they want to. The last 4 years in 16-19 I have seen many players dip in and out of the A Lag, some staying, and some continuing their journey elsewhere. But I thank the players from G16-19 that I've had throughout these last 4 years for showing me what can be done when we all stick together, show vulnerability and learn together.
To have fun. In football you can't always just work, you have to learn to step away and see the world for what it is. I have ambitions, but I also intend to live. It has been a hard lesson for me as a young coach because at times I have wanted to do everything to the book, but sometimes you have to go "off piste". But the Glimt office is a fun place to be, and we work unsociable hours and weekends but we have some right good fun along the way. In addition to this, Nordland is a beautiful place, there are a lot of things here to see if you just open your eyes. I have been guilty sometimes of being blinkered but the last 2 years I have seen some amazing places like Steigen, the Lofoten islands, Kjerringøy and many others. I thank Stig, Jan Erik and Tarald for their "kontrollert mobbing" to make me lighten up. Unfortunately, I haven't got to their level yet!
And finally, like a junior player who looks to the A lag and wanders what it takes to get there, I have been very open that one day I wish to be in the A Lag room, but I always thought it would be in a support role. However, through the journey of my A license, I learnt that actually I have the qualities to perhaps be a head coach. Gregg and Frode gave me the opportunity to lead G16-19 segment and be Glimt 2 coach at a time that I wasn't sure I was ready, but they backed me and without their support I wouldn't be taking the opportunity I am now. Stig and Jan Erik have then acted as mentors for me to talk with and share their experiences. So I, like countless players who have come through the Glimt system, now step out into the big world on the back of all their support.
There are many exciting young players that are coming through, but they will need patience and time and they will need to work incredibly hard to reach that Champions League level that the club now find themselves at. There are also many talented coaches in the building, and with Jens Karlsson taking my role and the new G6-12 coming in from January, they are both excellent additions to what is already one of the best academies in Norway. The future is looking bright, and I will enjoy from afar watching the club continuing to go from strength to strength.
To have been a Glimt coach has been something special, but Bodø and Nordland is where I consider home to me now, so I hope this won't be the last time. This will be base for me in Norway, and I couldn't think of a better place to come back to sometime later in life. But until then, a huge congratulation to everyone with Glimt in their heart, thank you for contributing to history. We will meet again!

Heia Glimt!

Tom Dent